Garden's First Agave Bloom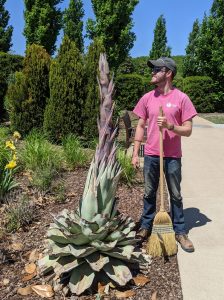 We have our first bloom spike on one of our Agaves, Agave parryi, in the Mediterranean Terrace of our A.R. and Marylouise Tandy Floral Terraces. It was planted just before the Tandy Floral Terraces opened in October 2015 as a one gallon size plant and has grown over the years.
Agave parryi are sometimes called century plants because it can take 10 – 20 or more years before they will bloom. The flower stalk begins growing from the center of the rosette and can grow to heights of 10-20 ft., also growing up to 20 or so side branches off the main stalk, with clusters of flower buds that will open to reveal yellow flowers. After blooming, the rosette will die, but likely produce shoots or "pups" that can we can plant in the garden to cultivate a new plant.
Agave parryi is native to parts of Arizona, New Mexico and west Texas as well as in northern Mexico. It is known for being one of the more cold hardy of the Agaves.
We're watching the bloom spike and having a contest for guessing the height (from the ground to the tip of the bloom spike) it will reach when it's fully blooming. The closest or correct answer will win a one year Individual Membership to the Garden. If we have more than one entry with the correct answer we will draw one winner from all the correct entries.
The agave is beginning to bloom, so we have closed the contest for entries. We'll measure the spike when it is in full bloom. Stay tuned!
Update: June 23, 2023: On June 20, the bloom spike was measured at exactly 11 ft. We had over 300 entries in the contest and the closest was within a half an inch. We've emailed the winner!