Children's Discovery Garden
The Children's Discovery Garden was designed to be a "wonderland" space where children and adults can learn about plants and the natural world through exploration and discovery. A rich program of  artistic features and subspaces help captivate and delight while interpreting the natural world.
Spitting Animal Fountains along the Stream Valley represent native Oklahoma species including: Leopard Frogs, Map Turtles, and Raccoon with Green Sunfish.
The Spring Giant is a one-of-a-kind "guardian" of the Children's Discovery Garden. Inspired by garden follies of Europe, the Spring Giant was designed by lead landscape architect Tres Fromme, 3.FrommeDesign, with input from the design team and artists. The 20' tall Spring Giant was built onsite by Weber Group with a reinforced concrete base. Artist Dan Jennison, Jennison Studios, worked with Weber and hand-sculpted additional fine-screened concrete to resemble cast limestone. The inside of the Spring Giant was sculpted and textured to resemble a grotto. Look for small sculpted bats tucked in among the stalactites.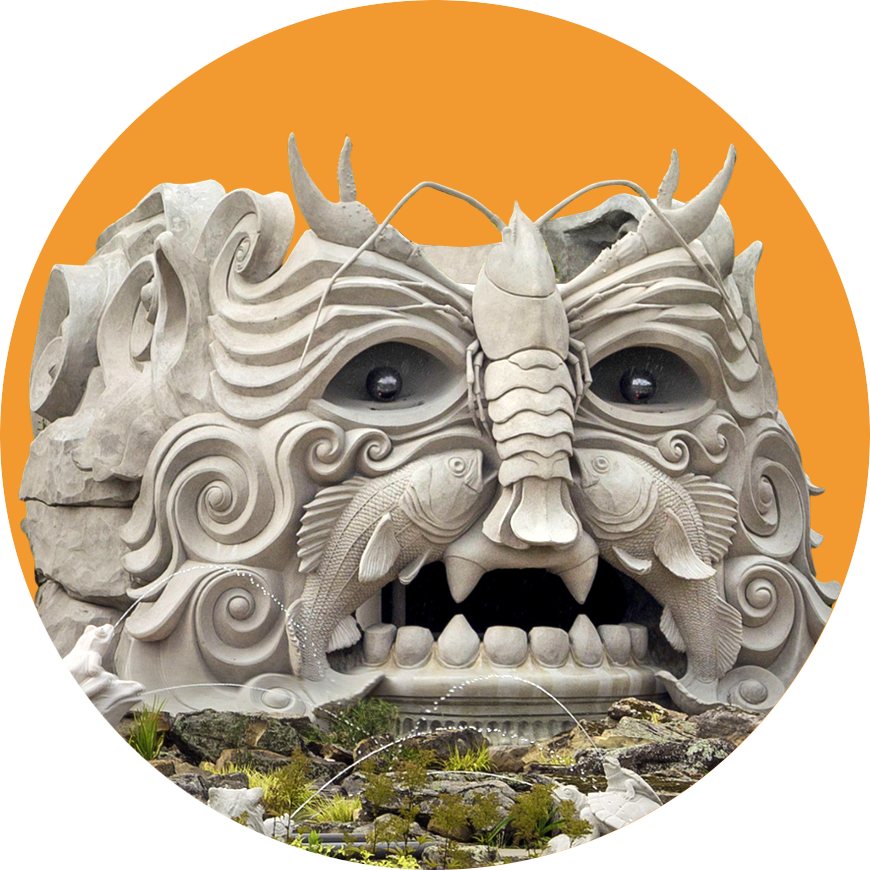 If you're in Tulsa for very long, you may recognize the whimsical designs of metal sculptures by Garden Deva founder and lead artist Lisa Regan. Bright blue and purple ribbons with bells which chime in Oklahoma winds mark the entry to the Children's Discovery Garden. Butterflies, hummingbirds, a bird "flock" and sense indicators are found throughout this garden to interpret these different themed garden areas.
Gift of Greg Gray and Sharon Bell
The Oak Thrones were carved by local artist Clayton Coss and represent the two most prominent oak species of the native forest: Post Oak and Blackjack Oak. See how many animals you can find on each one and what they have in common.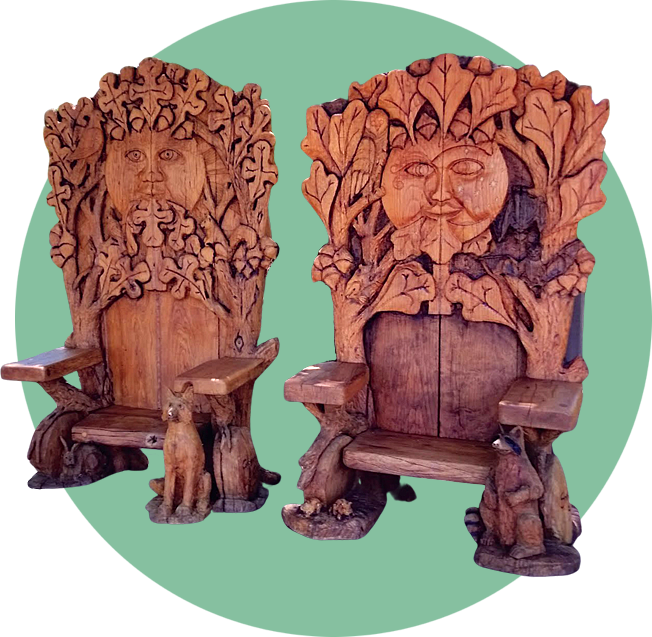 Artists with Weber Group created and cast bronze sculptures of Swallowtail Butterflies, Bumblebees and Dragonflies to hover overhead in the Children's Discovery Garden.
Artist: Christopher Curtis
Granite Glacial Boulder
2016
Gift of Mr. Burt B. Holmes and Mary Lee Townsend
"This sculpture references the unending advance of time and moves the jigsaw puzzle, a universally recognized form of recreation, into the third dimension. The granite was formed as bedrock in the Devonian Period about 380 million years ago, then broken free and shaped by ice during the repeated glaciation of the Pleistocene in the last 100,000 years. Finally shaped into its current shape in the Holocene period, it takes the familiar shape of a giant toy puzzle. The stone has a long history and a long future. Eventually, this stone sculpture will be reduced to sand before being compacted once again into a future generation of bedrock."
(Choctaw for Crow and Bear) 
Artist: Randall Osborn
Metal
2020
Gift of artist
"This piece was inspired by origin stories of ancestral Mississippian cultures that gave rise to the Choctaw and other nations. These mound-building people referenced themes of rising emergence culturally. My art explores thematic connections between past and present. Living things are connected to habitats that surround and sustain, emphasized by the use of reclaimed materials. One of the things that surprised me as I constructed this piece was the power of the negative space within the wings. Take a moment to observe what you notice about what is there and what is not."