Tulsa Botanic Garden is a living laboratory for students of all ages!
Pre-K through college students can experience the wonders of nature through hands-on learning and discovery.
Our Educational wagon covers Tree Anatomy. It was developed for PreK-3, but can be adapted to many ages.
Seasonal scavenger hunts that you are welcome to utilize. They will be at the front desk on the day of your visit.
Within the Children's Discovery Garden, we have a Treefort that is a wonderful space for an outdoor classroom.
On the Great Lawn behind the Visitor Center, you will find picnic tables you may utilize if you choose to bring lunch.
Admission for field trips are reduced group rates of: $3 per student, $3 per educator and $6 per adult/chaperone. (No other discounts/offers apply. )This must be purchased in advance – please call or fill out the form below.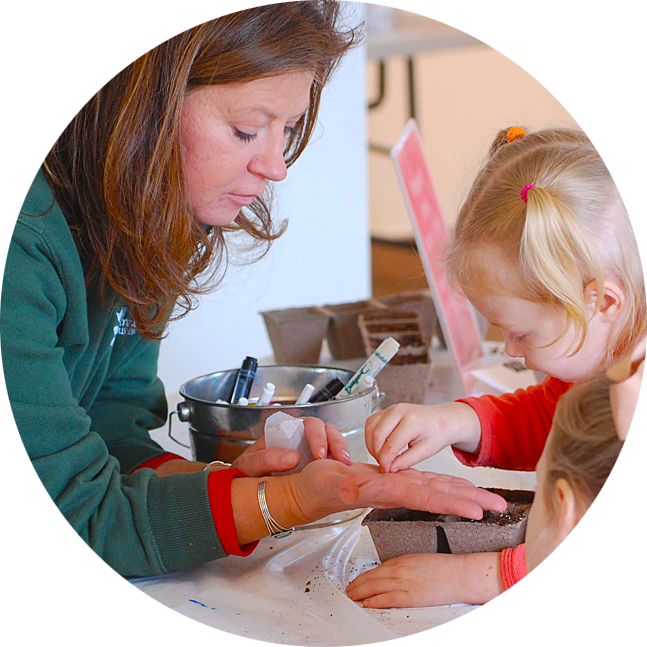 What hours can I come out for a Field Trip?
Tue – Sun 10am – 5pm. In June, July and August, Garden will open at 9 a.m.
What happens if it rains? 
Bring the rain boots! We are open during all types of weather! If necessary, we can reschedule your trip date at no additional cost.
Can I get a tours or lessons from staff?
Unfortunately, at this time we are unable to accommodate private tours and lessons.
How many parents should I bring?
We require at least 1 chaperone per 8 children. If chaperones are purchasing tickets on their own, please encourage them to purchase advanced tickets online ahead of the field trip. It will make the check-in process go smoother and more quickly. Advanced, online ticket is $8, at the door ticket is $10.
What should I bring?
Pencils are needed for the scavenger hunt. A trash bag is great if you plan on eating lunch on site. The Garden has first aid kits on hand, but please bring any necessary medications/inhalers/EpiPens.
Are there any indoor spaces available?
No.
I am a homeschool group, are parents considered educators?
Yes.
Are you ADA accessible?
Our Visitor Center has ADA accessible restrooms, and a ramp that leads to the paved walkways in the Garden. We have paved walkways through the Children's Discovery Garden and Tandy Floral Terraces. The Great Lawn with the picnic tables is flat, but does not have a paved walk way.