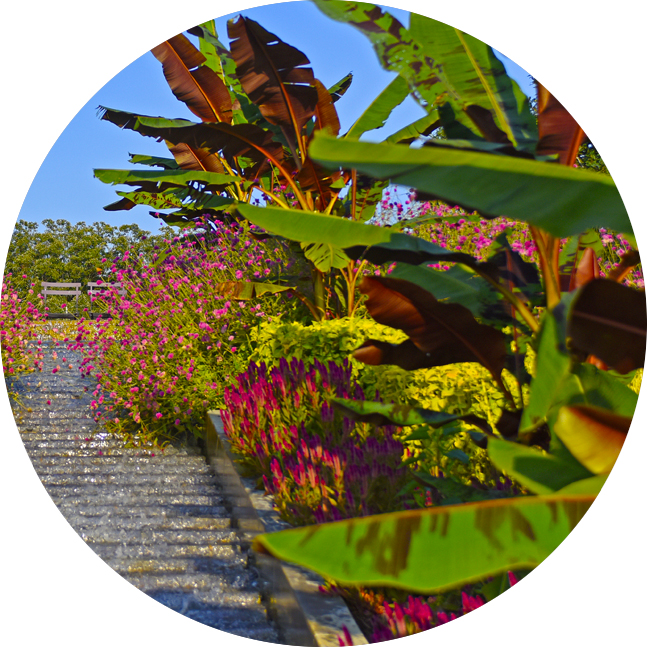 We look forward to
seeing you soon!
Some helpful items for your visit:
Comfortable shoes: We've got a lot to explore!
Hat and sunscreen: Dress for the weather.
Camera: Take photos of the beautiful plants and wildlife you'll see.
Insect repellent: Helpful if you plan to hike our nature trail.
Binoculars: Birdwatching is pretty great here!
To ensure a safe and enjoyable experience for all visitors and to safeguard our valuable plant collections, we ask all to follow our guidelines.
Leave flowers and plants for everyone to enjoy. Do not collect or remove seeds, flowers, fruits, and vegetables, plant labels, etc.
Service animals are welcome. Pets are not allowed. Special "Dog Days" – specific days and times when dogs may visit – are noted on our calendar of events.
Picnics are allowed; please no outside alcohol or glass containers.
All areas of the Garden (indoors and out) are nicotine-free, including electronic cigarettes and chewing tobacco.
Visitors should consult the Garden's photography policy before planning to take pictures in the Garden. All posed portraits require a photo permit, regardless of whether the photos are taken by a professional or a family member. Restrooms cannot be used for changing clothes.
Drone flying over Garden property is not allowed.
Do not feed, handle or harm any wildlife. It can be harmful to them and you. 
Kites, balloons, sport balls of any kind, jogging/running or climbing are not allowed.
Only adult-controlled children's items with wheels (e.g., strollers, wagons) are permitted. Bicycles, tricycles, rollerblades, scooters and skateboards are not allowed.
Weapons, musical instruments or players without headphones are not allowed.
Stay on designated pathways; do not block access for other visitors.
The Garden is a family-friendly environment. Appropriate attire is required on all guests including shirts and shoes.
Please refrain from wading or swimming in water features.
Visitors must leave grounds, including parking lot, by closing time.
Visitors may be photographed or videotaped by Tulsa Botanic Garden staff or our agents. Your paid admission grants permission to the Botanic Garden to utilize your image, likeness, and/or sound recordings for the purpose whatsoever in perpetuity.