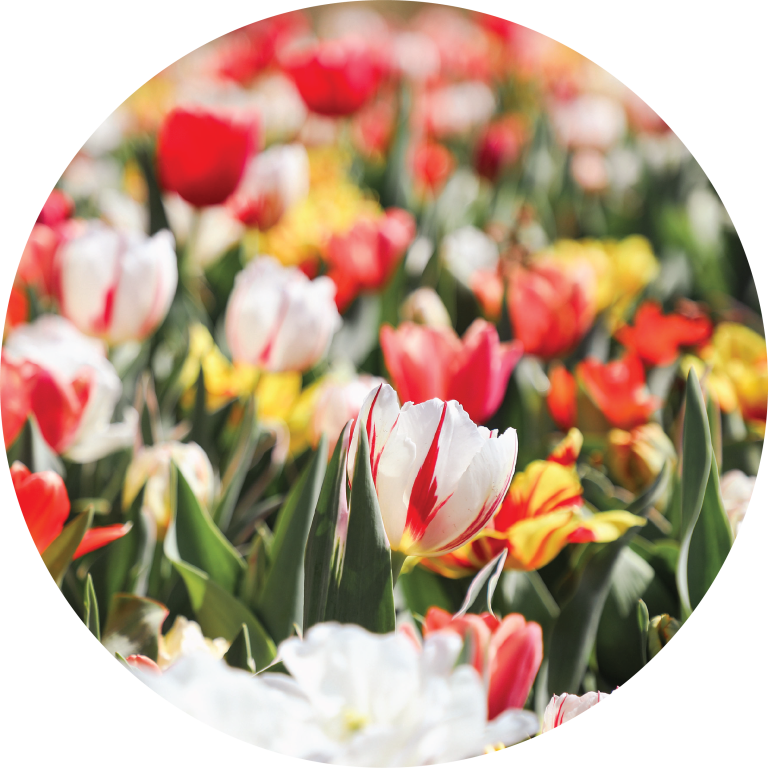 As one of the largest spring flower festivals in the region, Tulsa Botanic BLOOMS offers loads of color, fragrance and fun in the Garden. Over 100,000 bulbs including daffodils, hyacinths, tulips, crocuses and other spring blooming bulbs are planted each fall in a different pattern and color palette. This is in addition to over the thousands of daffodils that are already planted and bloom each year.
Mother Nature determines when the bulbs will bloom, but generally we see flowers from mid- to late March through mid-April. Follow our social media for the latest updates.
As part of our BLOOMS festival, we offer six weeks of our Bands & Blooms concerts in the Garden on Thursday evenings.
2023 Spring Bulb Displays
In total over 150,000 spring flowering bulbs were planted in fall 2022, including: 24,000 daffodils, 9,000 hyacinths and 81,000 tulips. 
A.R & Marylouise Tandy Floral Terraces:
Art Deco Planting Pattern: Chevrons
Color Palette: Bedlam Bulbs – one side has been planted with crimson and cream colored tulips, the other has been planted with orange, black (dark purple) and white tulips. Come take a pic with your "colors"!
Bulbs to see: crocuses, dwarf irises, squill, daffodils, hyacinth, tulips, camassia
Children's Discovery Garden:
Color Palette: colors of Oklahoma sunset 
Bulbs to see: dwarf irises, daffodils, hyacinth, tulips, species tulips, muscari (grape hyacinths), camassia, giant snowflake
Lakeside Promenade and Visitor Center
Bulbs to see: crocuses, daffodils, tulips, species tulips
Peak bloom times vary slightly each year depending on weather, but our horticulturists choose early, mid- and late-flowering bulbs for our displays. It's a new view every week!
On weekends from March 18 through April 30, food options and drinks will be available for sale from 11 a.m. – 3 p.m. Credit card only
Click Here for Food & Drink menu
Advance Tickets (member & non-member) are recommended. Buy up to the day before your visit: ADVANCE tickets: Ages 16+: $8; Ages 3-15: $4 Ages 0-2: Free ticket
 SAME DAY Tickets are $10 and $5 respectively. 
PLEASE NOTE: We are having issues with Apple Pay transactions.  Please use another form of payment
Every Thursday: Bands & Blooms
Bands & Blooms features live music from 6-8 p.m. along with food and drink options, including beer, wine and cocktails starting at 5 p.m. Visitors can bring chairs or blankets to enjoy music on the lawn or stroll through the Garden. Click Here for Food & Drink Menu!
Spring 2023 Bands & Blooms schedule (March 23-May 4):
March 23: Annie Ellicott | March 30: Bossa | April 6: Johnny Murrell
Cost to attend Bands & Blooms is FREE for Garden members or regular admission for not-yet-members.
BEST VALUE – Join as a Member for free regular admission, including all our spring and fall Bands & Blooms, plus reciprocal admissions and more! 
Advance tickets recommended: $8 for ages 16+, $4 for ages 3-15. Day of tickets are $10/$5 respectively. Walk-up admission is not guaranteed.