Garden of Lights 2020
Make your plans and get tickets now for Garden of Lights!
Timed-Entry Tickets must be purchased in advance. No sales at the door Capacity is limited each night. Plan early to get the date and time you would like. (Timed entry is to limit crowds and lines; once you have entered you may stay as long as you like, until closing at  9 p.m.. Gates open at 5 p.m.) 
Thursdays – Sundays, Nov. 27, 2020 – Jan. 3, 2021, 5-9 p.m. and Dec. 21-23
Special dates: Garden of Lights will be open Mon. – Wed., Dec. 21-23 (Closed on Dec. 24 and 25)
Reconnect with family and friends in the garden illuminated with colorful lights. Make s'mores over fire pits, enjoy holiday music and take in the spirit of the season in our magical garden escape. 
NIGHTLY: Hot cocoa and spiced cider (with spiked options), beer, wine and s'more kits are available every night for purchase. A food truck will be onsite each night from 5:30-8:30 p.m. Click here for food truck schedule.  Hay maze, garden photo stops and fire pits (weather permitting.)
TRAIN RIDES: are Thursdays, Fridays and Saturdays, and Dec. 21-23,  5-9 p.m. on the peninsula.  NO train rides on SUNDAYS. Last ride at 8:45 p.m. (Note path to peninsula is gravel and train runs on grassy area – may not be able to run if ground is wet/muddy). Train ride is included with admission.  
LIVE MUSIC – 5:30-8:30 p.m. – See schedule below:
Thursday, Dec. 17: 6:15-7:15 p.m.: Oklahoma Performing Arts – in Holiday Hearth area on Main lawn
Dec. 18-20, 5:30-8:30 p.m.: Tulsa musician David Horne at Mabee Grange
Dec. 21-23, 5:30-8:30 p.m.: Tulsa musician Jordan Hehl at Mabee Grange
Celebrate Safely – Please note these health and safety protocols in place:
– Advance tickets with TIMED ENTRY are required.  There will be no sales at the door.  Once you have entered you may stay as long as you wish. Gates open at 5 p.m. Garden closes promptly at 9 p.m.
– Capacity is limited each night.
– Masks are required for ages 5 and older and should be worn both inside and outside unless actively eating or drinking. (no medical exemptions)
– Hand sanitizing stations will be located near buildings and in Garden areas.
– There is no waiting area inside the visitor center. 
– More tips
TICKETS: Ticket sales benefit the Garden, a non-profit organization. No refunds. 
$15 for ages 13+, $5 for ages 3-12. Children 2 and under are free but require a ticket.
Garden member discounted tickets are $10 for ages 13+; $5 for ages 3-12. Must be logged in to see discounted pricing.
A limited number of tickets are available each night for those who qualify for Museums for All program. Tickets are $5/person for ages 13+ for up to 4 people. Children 12 and under are free, but require a ticket. Tickets are limited. Valid EBT card and photo ID w/matching name must be shown with tickets at entry. To purchase tickets call 918-289-0330.
NOTE: TIMED ENTRY TICKETS ARE REQUIRED AND MUST BE PURCHASED IN ADVANCE. Capacity each night is limited. Garden will close to general admission at 3 p.m. on days that Garden of Lights runs and re-open at 5 p.m. for Garden of Lights ticket holders.  
Not yet a Garden member?  Join today!
THANK YOU TO OUR 2020 PATRONS:   
Reed Jules Oppenheimer Foundation · Blue Sky Bank/Wendy and Gentner Drummond · CloseBend, Inc. · First Oklahoma Bank · Milo's Tea Company · Barbara Smallwood · Triad Eye Institute · Lisa & Tom Weatherholt · Aqua Dental · Ludi & John Beasley · Capital Advisors · GableGotwals · Howell & Vancuren · Jonesplan LLC · Mabrey Bank · Premier Advisors Group · The Sturdivant Family · Studio 45 · T.D. Williamson · Pat & Clayton Woodrum · Howard Doak, Cityscape Home Mortgage · David & Susan Johnson
MEDIA SPONSOR: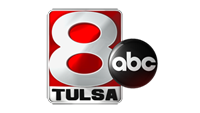 Interested in becoming a patron for Garden of Lights? More information here
Helpful Tips –
Arrival:
– Gate opens at 5 p.m. To avoid lines forming in front of our visitor center, we open gates promptly at 5 p.m.  If you arrive early, please pull to side to allow food truck or other vehicles that need early access to get through. 
– Start together – If you are meeting others, please communicate to meet up as you arrive. There is no waiting area inside the visitor center and limited area outside the visitor center.  All guests for whom you hold tickets must arrive and enter together.  Plan to arrive no later than 30 minutes after your timed entry on your ticket.  We cannot scan tickets earlier than your timed entry. 
– Be ready – Before getting in line for entry, be sure you have your tickets printed or pdf file with tickets opened on your mobile device.  All tickets have a barcode that is scanned. Everyone in your party must have a ticket, including children 2 and under. Museum for All ticketholders must have SNAP card and photo ID with same name ready to show with tickets. 
– Wear a mask – Visitors ages 5 and up are required to wear a mask at all times (indoors and outside) unless actively eating or drinking.  Share this information with everyone in your party prior to arrival. 
– Dress for the weather – This is an outdoor walking event, dress for the weather (bundle up!) and wear comfortable walking shoes. Rain or shine. 
– Check our social media for last minute updates! If at all possible, we'll post menus from the food trucks and other information here – helpful for planning. 
 Safety protocols in the Garden: 
– Timed entry will help with groups spacing out in the Garden.  Please keep 6 ft. from others not in your group. Masks are required for ages 5 and up both outside and indoors. 
– An additional outdoor exit has been added. 
– In smaller spaces, such as inside the Spring Giant, only one family/group will be permitted at a time.
– Hand sanitizing stations are located outside visitor center, Mabee Grange and in Garden areas. Dryers in restrooms have been disabled. Doors have no touch openers. Water fountains are disabled.
– Mabee Grange building will have designated one-way entrance and exit and limited seating inside. Additional seating will be outside on adjacent lawn areas. Doors may be open for better airflow.