Garden opens for season – April 5
Tulsa Botanic Garden will open for the 2014 season on Sat., April 5.  The Garden is open every Saturday, starting in April through the end of October, from 9 a.m. to 4 p.m. Weekly programs on Saturdays include plant hikes, gardening talks, and drop-in activities for families.  Suggested donation for admission is $2 for adults; 50¢ for kids 3-12.  Tulsa Botanic Garden is taking root on a 170-acre site just 8 miles northwest of downtown Tulsa.  Visitors can see the Garden's 25-year master plan, find out about the latest developments from staff and volunteers in the visitor center, and pick up a map to enjoy a stroll around the Garden's 7-acre lake or hike through Cross Timbers forest and prairie on a 1.5 mile nature trail.  
Click here for a map and directions to visit.
Activities in April include:
Saturday, April 5: 9 a.m. – 4 p.m.: Tree-mendous Trees!
Community organization Up With Trees will be at the Garden with free tree seedlings as well as tree planting and care information.  Pick up a tree seedling, take a self-guided tree walk and enjoy activities and crafts focused on the importance of trees!
Saturday, April 12: 10 a.m.: Plant Survivors – A Walk and Talk
Join Garden CEO Dr. Todd Lasseigne for a walk and talk to find out what plants are doing well after our rough winter temperatures, how you can protect plants from the harshest conditions and what plants will be added at the Garden this spring. 
Saturday, April 19: 10 a.m. – 4 p.m.: Kites at the Garden with Tulsa Wind Riders Kite Club
Bring the family to enjoy a spring day at the Garden!  Members of the Tulsa Wind Riders Kite Club will be flying their amazing kites and have kite kits you can decorate, make and fly yourself ($3 for kite kits).
Thursday, April 24: 10 – 11:30 a.m. or Saturday, April 26: 1- 2 p.m.: Spring Volunteer Open House
Learn about the Tulsa Botanic Garden's plans and projects and find out about opportunities to help as a volunteer.  Sign up to attend an informational session on either Thursday, April 24 or Saturday, April 26. For more information contact Lori Hutson at 918-289-0330 or lori@tulsabotanic.org.
Saturday, April 26, 11 a.m.: Gardening Strategies to Attract Butterflies 
Planning your spring garden?  Learn what plants and garden features you can add to your landscape to help attract butterflies.  Master Gardener Jim Thayer will share tips from his years of experience and also identify the species of butteflies you'll be most likely to see.  Attendees will be entered in a drawing for door prizes.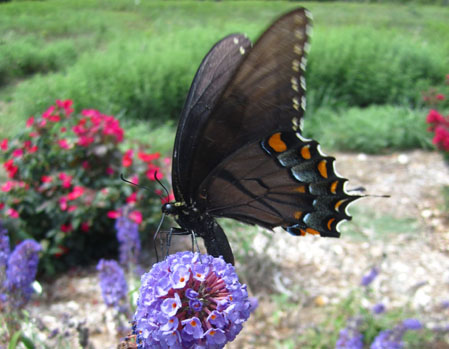 Reserve your tickets for the Garden's 2nd Annual DIG: Day In the Garden on Saturday, May 10th from 4 – 7 p.m.  Find details here.
 For more information, call 918-289-0330 or email info@tulsabotanic.org