Make your plans for Botanic Garden of Lights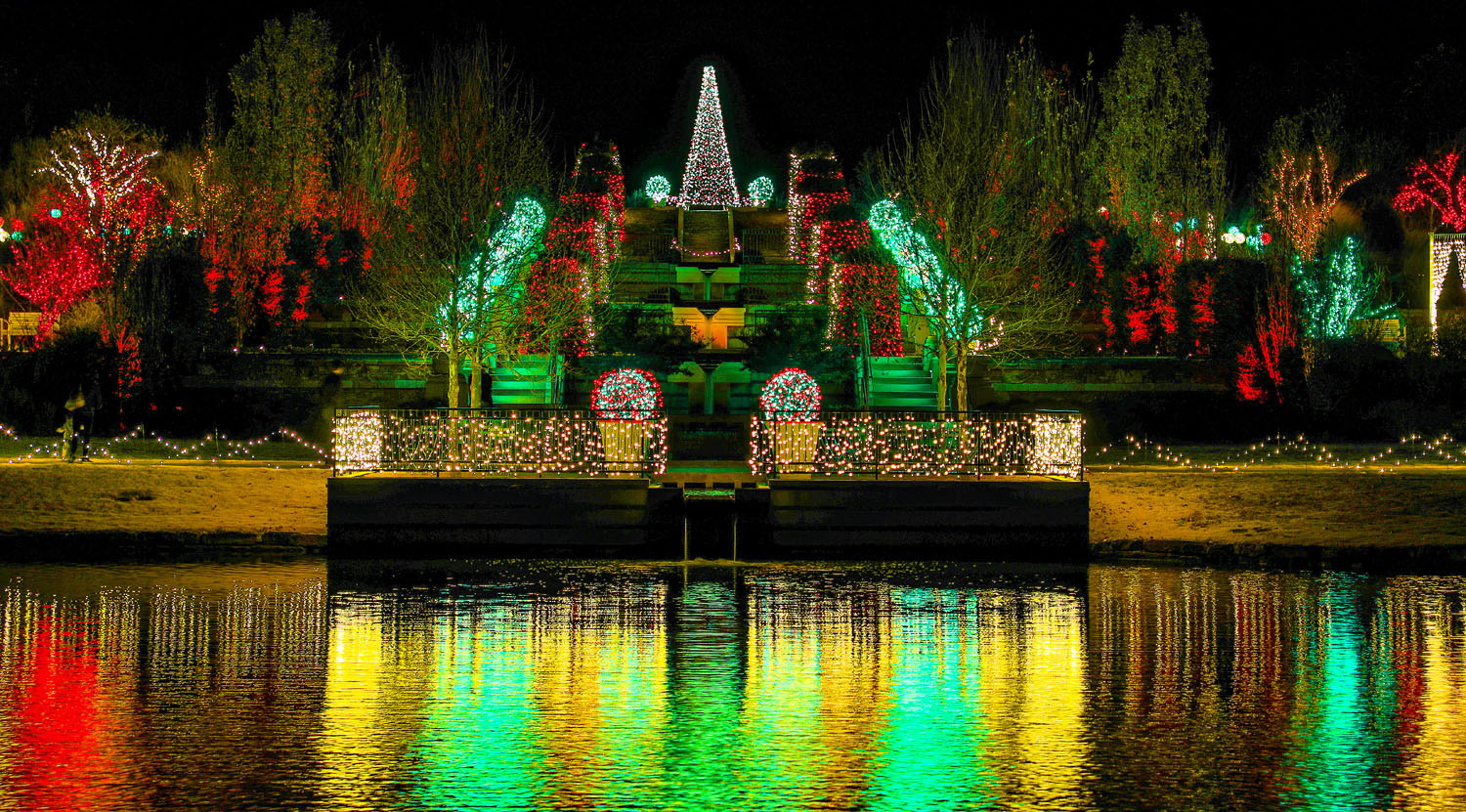 presented by

5-9 p.m.
Thursdays – Sundays, Nov. 25-Dec. 4
Nightly, Dec. 8-30
(closed Dec. 15, 24 & 25)
Reconnect with family and friends in the garden illuminated with colorful lights. Make s'mores over fire pits, enjoy holiday music and take in the spirit of the season in our magical garden escape.
NIGHTLY: Hot cider, cocoa and coffee (with option to spike with local spirits!), other seasonal cocktails, wine, local beer and s'more kits are available for purchase. Enjoy our Oklahoma-shaped snowball pit, photo stops and fire pits (nightly, weather permitting).  A rotating schedule of food trucks will serve their signature dishes and other light concessions will be available for sale.
SCHEDULE: Included with your admission on the following dates:
POP-UP CRAFTS every Thursday night, 5:30-8 p.m. on the Mabee Grange patio
BOTANICAL ST. NICK will be here 5-8 p.m. every Friday & Saturday (through Dec. 17) and every night, Dec. 19-23. Bring your camera!
KID'S TRAIN RIDES are every night except Sundays.
LIVE JAZZ MUSIC in the Mabee Grange each Sunday, 6:30-8:30 p.m. 
Nov. 27: Annie Ellicott & David Broome
Dec.  4: The Green Horns
Dec. 11: Booker Gillespie Trio
Dec. 18: Mezclave
LET IT GO! The Snow Queen, Snow Princess and friends will be visiting 5-8 p.m. on Tuesday, Wednesday and Thursday, Dec. 27, 28 & 29
CAROLING by Tulsa Metro Sound on Thursday, Dec. 8, 5:30-8 p.m.
TIMED ENTRY TICKETS ARE REQUIRED AND MUST BE PURCHASED ONLINE.
To offer the best experience for our guests, we have timed-entry tickets (each hour from 5 to 7 and 7:30 p.m.) and limited capacity throughout the night.  Advance tickets are highly recommended as dates and time-slots do sell out and ticket prices increase on the day of the event.  We offer no guarantee of tickets at the door.
ADVANCE TICKETS:
Members: Ages 16+ | $10; Ages 3-15 | $5
Non-members: Ages 16+ | $15; Ages 3-15 | $6
Children Ages 2 and under are Free but a ticket is required.
If available, any day-of tickets will be:
Members: Ages 16+ | $15; Ages 3-15 | $8
Non-members: Ages 16+ | $20; Ages 3-15 | $10
Prices increase at 12 a.m. on day of event
Museums for All: A limited number of tickets are available for those with a valid WIC/SNAP EBT.  Tickets must be purchased in advance by phone with credit card. Upon check in on date of visit, tickets can be redeemed by showing EBT card and photo ID. Limit one visit per household during 2022 Botanic Garden of LIghts.
Museums for All: Ages 16+ | $6; Ages 3-15 | $1
Children Ages 2 and under are Free but a ticket is required.
Group rates (50+) available for purchase in advance only. Contact us for details.
TICKET ADD-ONS: Available at Check Out
Date Night Package $79
2 Tulsa Botanic Garden Insulated Travel Mugs
4 Drink Tickets*
2 S'mores Kits
Family Night Package $49
6 Drink Tickets*
4 S'mores Kits
*Drink tickets are good for any drink at our Botanic Bar. Please be prepared to show ID for alcoholic beverages.
FOOD TRUCK SCHEDULE (subject to change):
Nov. 25: Glow Ice Cream
Nov. 26: V'Fresco Food Truck
Nov. 27: Glow Ice Cream
Dec. 1-4: V'Fresco Food Truck 
Dec. 8: Krumbly's Kitchen
Dec. 9-10: The Spud Truck
Dec. 11: Krumbly's Kitchen
Dec. 12-14: Steak & Bake Food Truck
Dec. 16-18: The Po' Boy Roller LLC
Dec. 19-23: Steak & Bake Food Truck 
Dec. 26-29: Andolini's Pizzeria
Dec. 30: Smokin' Son of a Gun BBQ
In addition to food trucks. our Garden of Eatin' will offer hot dogs, nachos, charcuterie and sweet treats for purchase.
THANK YOU TO OUR SPONSORS:
Presenting Sponsor: Bank of Oklahoma
D&L Oil Tools
Reed Jules Oppenheimer Foundation
Triad Eye Institute
CloseBend, Inc.
Cyclonic Valve Company
First Oklahoma Bank
Barbara and Allen Smallwood
T.D. Williamson
Aqua Dental
Wallace Design Collective
Manhattan Construction
The Bama Companies, Inc.
Barrow & Grimm, PC
The Oxley Foundation
Kleinco Construction, LLC
The Sturdivant Family
GableGotwals
Ludi and John Beasley
Jonesplan, LLC
Osage Casino Hotel
TranSolPro LLC
Mabrey Bank
Blue Sky Bank/Wendy and Gentner Drummond
A-Best Roofing
TulsaPeople Magazine
Raj Basu & Rebekah Tennis